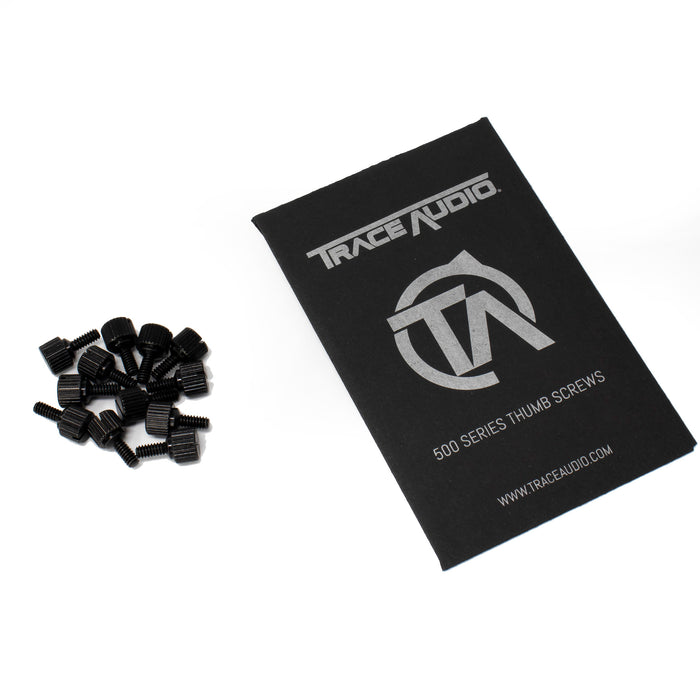 500 Series Thumb Screws 12 Pack 4-40 Threads
Original price
$14.99
-
Original price
$14.99
*PLEASE READ DESCRIPTION AND COMPATIBILITY LIST BEFORE BUYING, NOT ALL 500 SERIES MANUFACTURERS USE THE SAME THREAD PITCH.*
12 Pack of Trace Audio 500 Series Thumb Screws.

These thumb screws are unique in that they do not require a nylon washer.
They are designed with an 82 degree bevel that fits perfectly into the counter sync on 500 series face plates. This means the face plate is held securely in place with no contact to the actual faceplate.

The screws are knurled to make it easy to tighten or loosen them by hand.
They also feature a slot which allows for them to be tightened or loosened with a flat head screw driver as well.

Available in two different finishes, Black or Stainless Steel.

These screws are 4-40 and will fit most 500 series racks.
The following is not a comprehensive list, it is just a list of the most popular racks that will work with our screws.

-RND
-API
-BAE
-CAPI
-Purple
-Cranborne
-Radial
-Trident
-Midas

If you have any questions feel free to reach out!
Happy recordings.