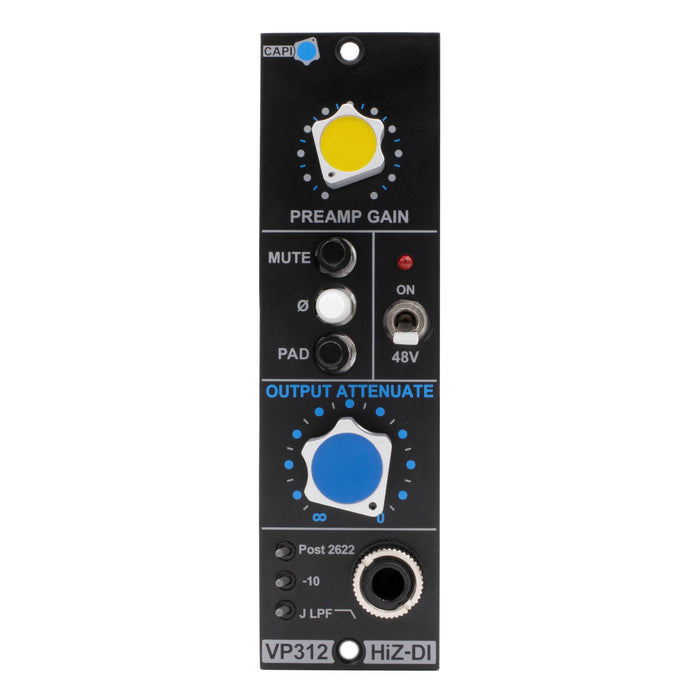 CAPI VP312 HiZ-DI 500 Series Preamp
Original price
$425.00
-
Original price
$425.00
CAPI has made an incredibly accurate recreation of the vintage API312 Preamp. Unlike the original, these inlcude a T-pad attenuator at the output which is perfect for dialing in gain structure and tone. It also features a HiZ-DI input on the front. This preamp is great for anyone who wants a vintage preamp reminiscent of the 70's console "sound".

The VP312 includes these great features:
-Stepped Input Stage (If you would like a passive potentiometer let me know)
-Passive Output Attenuator
-Discrete Op Amp
-Input and Output Transformers
-Mute Switch
-Polarity Flip Switch
-20dB Pad (Original voltage divider pad design)
-Phantom Power

HiZ-DI Input features
-Post 2622 (Optional path pre or post input transformer)
-10dB Pad (Pad is only in effect when HiZ jack is terminated and is in Post 2622)
-J LPF (Low pass filter, only active if the above toggle switches are engaged)
FET-ZCON1: Described as having a sound that is "mean and aggressive". This HiZ plug-in utilizes the J201 FET transistor in order to properly load an unbalanced input.

HiZ-TX2: The TX2 features a pikatron 3096M transformer. These were originally designed as a mic pre input but have been found to be quite tasteful for a high-impedance direct input.
All units are 100% VPR Alliance compliant.