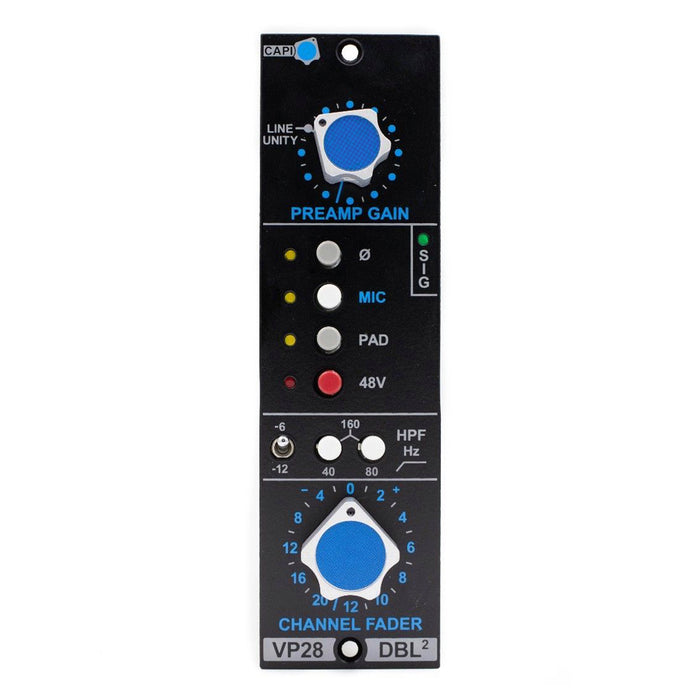 CAPI VP28 500 Series Microphone Preamp
Original price
$469.00
-
Original price
$469.00
Classic Audio Products Inc. has put together one of the best sounding API like preamps out there.
The VP28 is stuffed with a ton of features including:
-Stepped Input Stage (60dB of gain)
-Stepped Output Stage (12dB of gain)
-Two Op Amps (gar2520, gar1731, and other options)
-Two Line Transformers (Litz or Ed Anderson)
-Phase Flip Switch
-Mic/Line switch
-20dB Pad
-Phantom Power
-Three Button Hi Pass Filter (40Hz, 80Hz, and 160Hz)
-dB/Octave Toggle switch for Filter (-6dB or -12dB/octave)
These preamps can accomplish the clean "LA Sound" as well as an overdriven sound reminiscent of British preamps.
These pre's have an amazing presence and give a full bodied sound to any mic. They are great on condensers as well as some lower output microphones such as the SM7B or a ribbon mic.
The VP28 doesn't just stop at being a stellar mic pre though, if you put it into Line Mode (de-select Mic) the VP28 will properly load the input for any line level device. This means you can now reamp some lack-luster tracks through the VP28 and give them some of the power and drive they may have been missing before.
All units are 100% VPR Alliance compliant.